By Ed Zhang(China Daily USA)
AsiaInfo founder predicts country will play a major role in development of the tech sector.
In China's Internet industry, Edward Tian is regarded as a founding father, one who continues to lead ideas and is active in building new business avenues and new companies.
Tian Suning, as he is known in China, co-founded AsiaInfo in 1993 in Delaware and was among the first people who brought the Internet - physically and conceptually - back to his home country.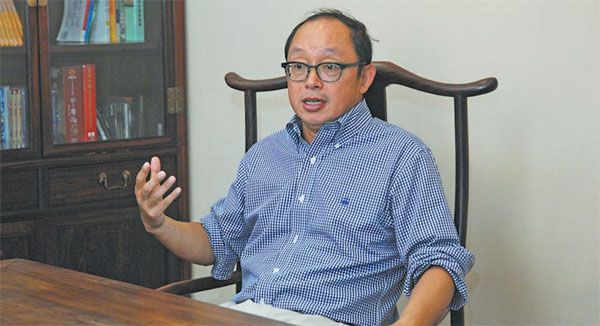 More than 20 years later, not only does AsiaInfo still stand, but it claims to be the second-largest solution provider to the telecommunications industry in the world and continues to race forward at a double-digit growth rate.
The 53-year-old Tian is also founding partner and chairman of CBC Capital, a venture capital fund management company in China.
In contrast to a general slowdown that reflects mainly the painful transition of a once export-driven, manufacturing-based industrial system, China's Internet industry is still "in a very robust state," Tian said ahead of a return trip to the U.S. in late September.
The U.S. is a land he has fond memories of: "We've been a student and an attentive follower of the things coming from the U.S. - first the PC, then the Internet, and now mobile communications. Thanks to these American inventions, we can learn from them and use them to bring down the cost of our economy continuously.
"Indeed," Tian added, "we can call China the biggest beneficiary of the globalization of the world economy. And among the biggest benefits are the U.S. inventions that we've adopted."

Having been a follower for the last two decades, China can now make its own contribution, he said. "I can see a fundamental change on the horizon. China can contribute more to the world in the up-and-coming game of what I would call the data-driven economy."
The data-driven economy is Tian's signature phrase, and he explained that it is when data is an important resource to power the economy and all human activities, much in the same way as electricity is now.
The main components of the would-be data-driven economy include big data, cloud computing, and more sharing and efficient use of resources and even software. In these areas, he said, "China is not going to be just a follower any more. It won't just follow, it'll play a more important role."
China is likely to enjoy some unique opportunities because it has two advantages, he pointed out. One advantage is the country's scale of the economy. Innovation of the business model is a game of the more the merrier, he said.
"It's just like AsiaInfo's software development. If a solution is developed through everyday use by a massive number of users, and if it is tested in such an environment and proves to be good, it can be competitive elsewhere."
Solutions developed by Chinese companies can already handle highly complex tasks, including in the telecommunications industry and in other mass services, Tian said, explaining: "Because in few other countries can you find so many customers in so many situations."
The other advantage China has is in its deep integration with the global economy and its ability to tap resources in other countries, he said. "China is becoming a capital exporter in the world. Not only are American companies investing in Zhongguancun (an area of Beijing with a high density of universities and research institutes), but Chinese companies are also investing in Silicon Valley."
Even China's current slowdown has not prevented Tian from being optimistic. "The slowdown in fact comes from the government's deliberate adjustment of its economic strategy.
"It's good to hear about the government awareness about the rising use of big data and cloud computing. They will be highly important for the modern economy a couple of decades from now. By that time, any sort of effective government will necessarily be run on big data," he said.
"Since we have massive activities and massive data, while the Chinese IT industry is by no means short of investment, there is a chance that our current transition will change China into a big data power, or a big power in data capabilities."
Some pioneering Chinese cities have already built data exchanges. But from now on, Tian believes initial changes will most likely happen in areas such as transportation, environmental protection, medical services, and education.
Eventually, he said, all industries, companies and organizations will go through change, which may give rise to many new service providers and flourishing business models.
"That's why we privatized AsiaInfo, for fear that public investors wouldn't be sympathetic with our plan for future-oriented changes, which would inevitably involve some profit losses in our established business practices. A major organizational reshuffle followed, and AsiaInfo is more geared for big things in the future."
But for AsiaInfo, as well as many other Chinese technology companies, a major hurdle remains: "We're short of people, especially software engineers who can communicate with clients in their cultures."
This is an area where multinational corporations have failed to set an example for China, Tian said. "In many cases they just 'parachuted' some foreign managers into China and left them to work in an isolated environment. We'd like to hire more local engineers. We'd like to share more with them - our corporate identity and organizational culture - but how? We're still learning.
"We operate in different countries, in Asia and Europe, and hopefully some day in North America. We know that in different countries, we can't just export our practices in China," he said. "We have to accumulate local knowledge. It's a factor that really slows us down."

(China Daily USA 09/22/2015 page16)